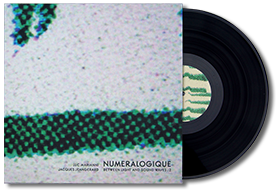 Le double LP de Numéralogique est sorti chez DDD en juillet 2014.
Juno records à propos de DDD & Numéralogique
"France's DDD is a particularly promising independent label with a diverse output, and we never know what to expect from them. OB Ignitt's remix of a track by the same Luc Marianni featuring on this latest collaboration is a perfect example of the label's artistic flair. The legendary Marianni - who has already appeared courtesy of DDD for a reissue of his seminal Souvenirs Du Futur LP - teams up with the considerably younger Jacques Jeangerard for a tripping, plasmic assemblage of drones and generally tripped-out electronics. Four long and shape-shifting cuts, containing many snippets of field recordings delicately fused to wavy synthesizer shapes and subtle beats. Our favourite is "Il Va Pleuvoir", a piece which emanates out of the speakers in 3D fashion. Outstanding stuff from this little label, as per usual. Expect the unexpected."